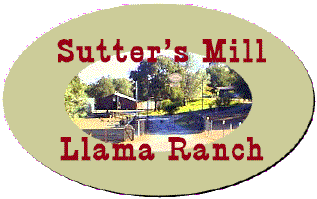 Sutter's Mill Photo Album

Life is good out on the farm. With over 50 llamas roaming around, life is also very full! Gone is the old routine of Commute / Office / Weekend / Commute from our past lives as insurance wonks. Now we live and work right here at Sutter's Mill. Bill tends to the llamas while Sandy manages Nose-N-Toes and Matt goes to school.

Its a long way to the farm for many of our friends and family, and as time passes its easy to lose touch. But now through the magic of CyberSpace we can post a few photos so that everyone can see what we're up to "out on the farm".

---

Matthew !!
---
---