| | |
| --- | --- |
| | New Baby |
6/11 - Sutter's Mill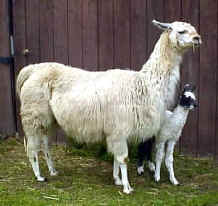 At about 6:25 P.M. yesterday Taffy Love delivered her new son Silver Sawbuck under the big oak tree in the front pasture. As with so many of our girls this year, she was past her due date. But Taffy is an experienced mom, and her delivery was without difficulty. "Bucky" is a big boy (32½ pounds), and he was on his feet within a half hour, and nursing before the sun went down. Taffy and Bucky spent their first night together in an interior stall in the barn.
This morning, as they emerged to begin Bucky's first day as a llama, we were there with our cameras. Here are some of the first photos.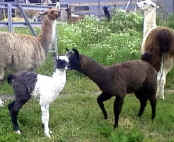 Bucky is our twelfth baby this season, and he was eagerly welcomed by all of the other members of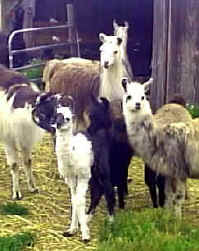 the breeding herd, including his sister Tina who is a four-month-old daughter of Bucky's sire, Saint Valentino. No matter how many llama babies come and go, it is always a joy to watch the greeting that they receive from their new herd. Llamas are extremely social, and every member of the herd makes a point to touch noses with the new baby as the proud mom looks on. Its all just a bit jostling at first, but baby seems as curious about all of his new herd-mates as they are about him, and somehow he keeps his balance on his new little legs.
Bucky was pretty curious about us as well. So, in polite and proper llama fashion, we joined in the ritual nose touching.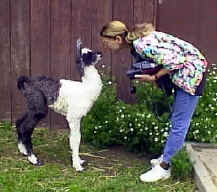 Bucky has long soft gray and white wool, straight legs, and a long neck. He seems to have a pleasant disposition, although its too soon to say for sure.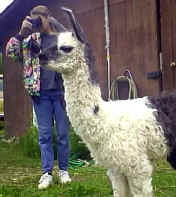 As with all of our boys, Bucky will stay with his mom for at least six months - longer if possible. We believe that the more time a llama baby spends with his breeding herd, the more well adjusted he or she will be as an adult. Besides, the longer the babies stay with their moms, the more time we have to enjoy them.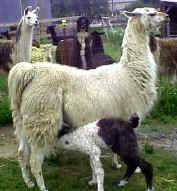 When we left Bucky and Taffy, he was nursing, and she looked to quite content . . .
Very few things in life compare to the experience of participating in the birth of a new baby llama. No matter how many babies arrive, the miracle is just as marvelous with the next one.
Nose-N-Toes Home Page - Sutter's Mill Home Page