12/6/98 - Sutter's Mill
All summer its just too hot here.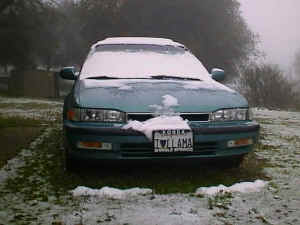 The llamas suffer in their luxurious wool coats. The dogs and cats hide in the shadows around the house and barns. Pig make frequent trips to his pond.
Winter is mostly cool and rainy - lows in the 30s or 40s with a series of cold fronts sweeping in from the Gulf of Alaska. Once in a while it gets really cold, and every couple of years it actually snows. Last night was one of those rare ocassions.
By 9PM there was a white veil over the kitchen sky-light, and at dawn the farm was snuggled into a misty snowy slumber. Quick!! Get the camera! The snow will all be melted by noon!
As the morning unfolded, the llamas moved out into the pastures to have a look around and discuss their rare good fortune. In their ancestral Andean home, they would have had lots of snow on most winter mornings.
Snow days are good . . .