Pair of
Etched Silver Llama Ashtrays
Circa 1930

Vintage Llama Treasures
From Nose-N-Toes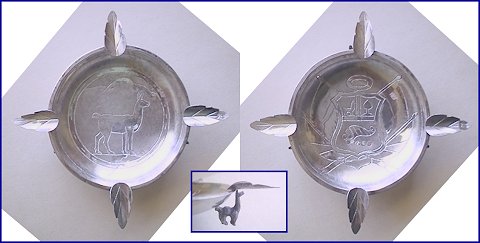 These fun silver metal ashtrays are over 2 ½" in diameter with delicate silver leaves to hold the cigarettes!
The bowls are mounted on sterling silver llama pedestals. One is hand etched with a stately llama with mountains in the background, the other has the Peruvian Coat of Arms with the llama in the top left corner as well as the palm tree and cornucopia!
Elegant! Practical!
VT327
$37.50
SOLD
All Prices Plus Shipping & Handling
Vintage Treasures - Home Page - Ordering & Shipping Info
Nose-N-Toes Llama Gifts
4790 Luneman Road - Placerville, CA 95667
(800) 530-6391 * (530) 642-2378 fax * sandy@nose-n-toes.com