Introduction
---
Sutter's Mill Llama Ranch
4790 Luneman Road
Placerville, CA 95667
Bill & Sandy Chickering
(530) 642-2377
wec3@ns.net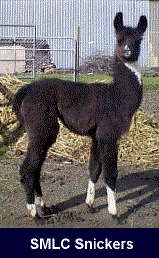 Introduction
Sutter's Mill Llama Ranch is located in the historic El Dorado County gold country of the Sierra Nevada foothills east of Sacramento, California. Along with Sandy and Bill Chickering and their son Matthew, Sutter's Mill is home to ten cats, two dogs, Wilbur the Pig, and one of the finest llama herds in the West.
If you have recently purchased or are thinking of acquiring your first llamas, you are joining a rapidly growing group of llama enthusiasts around the world. Llamas are delightful animals with a unique history. Though they share a number of characteristics with more familiar livestock, they have some very special attributes. This review of the important facts about llamas will acquaint you with your new family member.
Our thanks to the International Llama Association for providing the basic text of this information.