The Apocryphal History of the Llamas of Sutter's Mill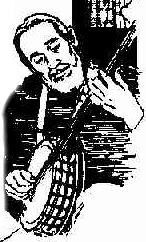 When gold was discovered in the tail race of John Sutter's sawmill in 1848, the news of his good fortune spread far and wide. Soon people from all over the world were rushing to the California gold country hoping to strike it rich! Within a few short years mining camps became towns - towns became cities - and California became the 31st State to join the Union.
Back east in New England, John Sutter's younger brother Harold was eking out a meager living as an itinerant banjo salesman. Dixieland banjo music was quite popular in those days - but not among those who lived in New England. So Harold would read the letters sent by his adventurous California brother and dream of the day when he too could go west to seek his destiny. Alas, Harold had an aversion to long overland travel - the idea of walking to California beside a covered wagon full of banjos was simply out of the question.
Then one day while he was doggedly peddling his banjos along the New York City waterfront to sailors from distant lands, Harold spied a notice tacked to a post: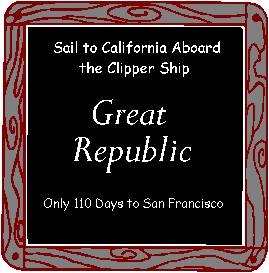 In an instant, Harold knew that he had found the way out of his banjo sales slump!! Without hesitation, he booked passage on the Great Republic, and in 1853 Harold Sutter sailed for California together with several wooden crates filled with the best New England banjos.
Clippers were the fastest ships afloat in those days, with tall masts and billowing sails. A scale model of the Great Republic can now be seen prominently displayed in a seaside hotel lobby in Monterey, California. But in 1853, an ocean voyage to California via Cape Horn was so long that even a fast Clipper was compelled to stop periodically to take on fresh supplies of food and water.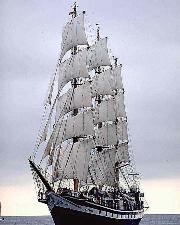 It was on the occasion of such a layover along the coast of Bolivia that Harold made a remarkable discovery - Llamas!! For thousands of years the native people of the Andes Mountains had relied upon llamas as their only beast of burden. As Harold beheld these graceful camel-cousins in long pack strings carrying silver ore up and down treacherous mountain paths, he knew that llamas were just what he needed to haul his banjos into the California gold country!
And so it was that the crowd of onlookers exclaimed in amazement as Harold Sutter led his string of banjo pack llamas down the gang plank of the Great Republic, along the San Francisco Embarcadero, and into the apocryphal history of California.
Harold, his banjos, and his llamas eventually found their way to brother John Sutter's sawmill. The banjos were a big hit with the miners who, by that time, had become a rather surly lot for lack of good musical entertainment. And Harold's llamas were used by the miners to reach remote gold mining sites that might not otherwise have contributed their buried treasure to the wealth and prosperity of present day California.
Yes, California owes a lot to Harold Sutter. Its position as a world renowned entertainment Mecca and a land of peace and prosperity can be traced directly to the early contributions made by Harold Sutter and his banjo pack llamas.
Sutter's Mill Llama Company is located on the high ground two miles south of Lotus, California at the very spot where some say Harold Sutter first settled with his llamas in 1853. Many of our llamas may be descended from that first Bolivian pack string, and we're proud to continue the Harold Sutter tradition of hard work and fun times with llamas in the California gold country.
The preceding tale was contributed anonymously by an old bearded prospector from Michigan who may have confused a few of the details . . . .